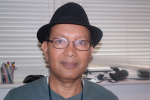 Silvar Ferreira Ribeiro

Profile
Location: Salvador Bahia, Brazil
Homepage: https://www.facebook.com/silvarfribeiro/
Description: Lecture and Researcher of Bahia State University. Doctoral Student at Bahia Federal University. Colearn OU/UK Membership.
( View Analytics for this person )
---
Content Creation Summary
Item Type
Creation Count
View
Idea
90
View
Issue
64
View
Supporting Argument
60
View
Chat
20
View
Note
16
View
Map
16
View
Counter Argument
11
View
( View all Activity for this person )
---
Followers
Picture
Name
View
No followers yet.